Cruise ship industry nowadays provides a wide range of jobs on cruise ship that are financially attractive.
Cruise jobs enables people to travel all over the world. Having in mind that cruise ships are like floating hotels, job vacancies are much similar to five star hotels and fancy resorts. Life onboard is quite different than any other living experience, but people usually understand this after getting cruise ship job and starting their first cruise.
The norm includes renewable four to six month contracts for catering and bar staff, chefs, cleaners, hospitality and front house roles. There are also many cruise ship jobs vacancies for beauty therapists, health and fitness instructors, casino staff, child-care workers.
The difference that is most obvious when you live at sea, is that land is far and away. This leads to lifestyle differences, as well as differences in weather. Ocean can be quite unpredictable even in calm environments. Sea storms are somewhat legendary; rough waters and high winds come with territory. Passengers and staff onboard are always safe, but for some of the cruisers, oceanic factors and storms at sea go unconsidered.
 Benefits of Working on Cruise Ship
Cruise ships usually operate on routes which return passengers to the originating port. Ferries and ocean liners transport customers from one to another point, and river cruise ships always operate on inland waterways.
The available jobs on cruise ships are similar to the ones on offer in summer jobs industry, so they bring same challenges. The fact of being in the ocean most of time adds somewhat to these challenges. Cruise ship passengers are usually demanding and professionals need to be committed to providing their satisfaction. It is really tough to live and work for a long period away from home when there is an airport nearby- being on boat makes this harder.
Those who seek for cruise ship job have to be careful of all scams on the Internet when you pay a registration fee and receive a list of jobs on a cruise ships – even 'guaranteed' job on a cruise ship. Often these are bogus, so you should research the company thoroughly before you use them and before you pay any cash! Never top part with any money to apply for a job!
Professionals who perform cruise ship jobs, are varied as ports they serve. No matter shipboard or land based, jobs on cruise ships are plentiful! Available cruise jobs frequently include the land based sales and accounting, public relations, customer service, as well as the shipboard jobs like cruise director, officer, security, hotel, guest services positions.
Professionals who look for jobs on a cruise ship

 

better embark on search for working for the major cruise lines. Twenty-six brand-new cruise ships are going to be built by 2014, which will result in additional berths- 51,000. The additional ships and passengers will equate to increased demand for cruise ship jobs professionals who really want to work on cruise ships.
Most of the entry-level cruise ship jobs require formal training especially hotel positions and shipboard hospitality. When someone is interested in a cruise ship job and has background in beauty, fitness, childcare, administration, information technology, marketing, or any customer service field, he already possess the necessary skills and experience.
Cruise ship jobs salary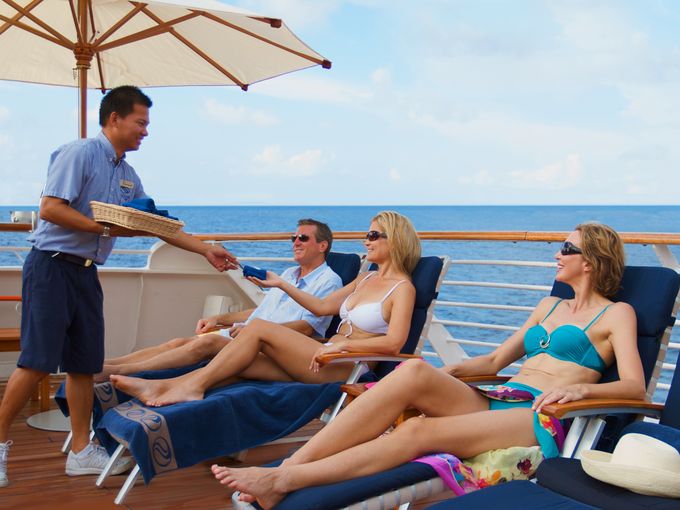 Salary of Cruise ship job is very competitive as well. For example, a cruise ship personal trainer or fitness instructor may earn more than $2000 per month. Bartenders and average cruise staff members may earn $2600 per month; activity coordinators may earn about $2800 per month; waitresses – $3000 per month; assistant head chefs – $4600 per month.
Each cruise ship requires different types employees to ensure luxurious environment for passengers. Accommodations while on duty, added perk and free meals are also important, because most of the cruise ship jobs salaries can go into savings.
Why to try working on cruise ship ?
Payment – great, travel opportunities – perfect, but cruise ship jobs and living for a long time onboard a cruise ship ain't easy business…
Because of history of powerful traditions, regulations, maritime laws, cruise ship jobs have regulations and routines that must be followed.
Hierarchy and positions onboard cruise ships are seriously taken and this fact typically translates into living and social environment ruled by strict rules and protocols.
The captain, who is the highest-ranking officer and persons in subordinate roles are well aware of higher-ranking officers and they report to them. It is not all military like regime, but cruise ship jobs employees account work environments much different from the ones they have experienced on land.
It turns out that many people enjoy the organization and structure of life on cruise ships – while in the beginning it takes time getting used to, often it translates into work environment where cruise ship jobs people thrive.
Living Conditions and Quarters
Living conditions for cruise ship employees, can be cramped, especially on-board smaller ships. Employees most often share with one or two other employees a really small room. On bigger cruise ships the living spaces are similar to standard passenger cabin, but these spaces are always shared and are particularly small. Some of the higher-ranking officers enjoy single cabins; married couples are able to apply and live together. Potential employees have to consider, how long is the time, they will live in a room like this – it can often be several months.
Cruise ship job employees room in areas that are away from passenger cabins. Typically, they are grouped together, by department and in nationality. This way jobs on a cruise ship create friendships and tight relationships between employees of same department; 'team' atmospheres are used to describe social nature among all employees.
May be the largest factor about being comfortable with living environment onboard a cruise ship is adjusting. It is anything new, could be difficult at first, and most people acclimate to living environments quickly. They don't consider it is an area of discontent and stress.
Cruise Jobs – Work Schedules and Personal Space
Employees working on a cruise ship and their schedules are another area which requires
adjusting. The reason is that you live at your place of work and also because of nature of work, most employees are required each day to perform some work responsibilities. There are days that require more work and depending on the position each schedule varies a lot.
People with cruise ship jobs, and other positions that interact with guests, can begin feeling like they are 24-hours a day on staff. Most cruise ship companies require staff to wear shirts with company's logo, nametags and uniforms even when off duty.
People who wish to avoid the feeling of being "on" all the time, usually avoid public places during hours off and typically are able to find a niche onboard where to escape for a few hours from the demands of work and enjoy time alone. To adjust to differences usually takes time. Cruise ships provide cooking, cleaning, all the laundry, so people having jobs on a cruise ship do not worry about daily tasks during time off – they use those hours for personal or social time.
Most of the ships have dining halls, bars and lounges that are employee-only, there are venues designed for employees where they enjoy being around peers. Also, while a cruise ship is at port, usually there are lots of fun activities off the ship to take part in. All these factors help with the demanding work schedules and feeling of cabin fever, and also with other difficult aspects of onboard life.
For the most part, people with cruise ship jobs are happy to have jobs which afford them great benefits, earning and travel potential. Schedules and living quarters are seen as drawbacks to jobs, they are just adjustments that have to be made. Most of people with cruise ship job will tell you that these small drawbacks are worth all the positive features of working jobs on cruise ships.
How to get a Job on a Cruise Ship?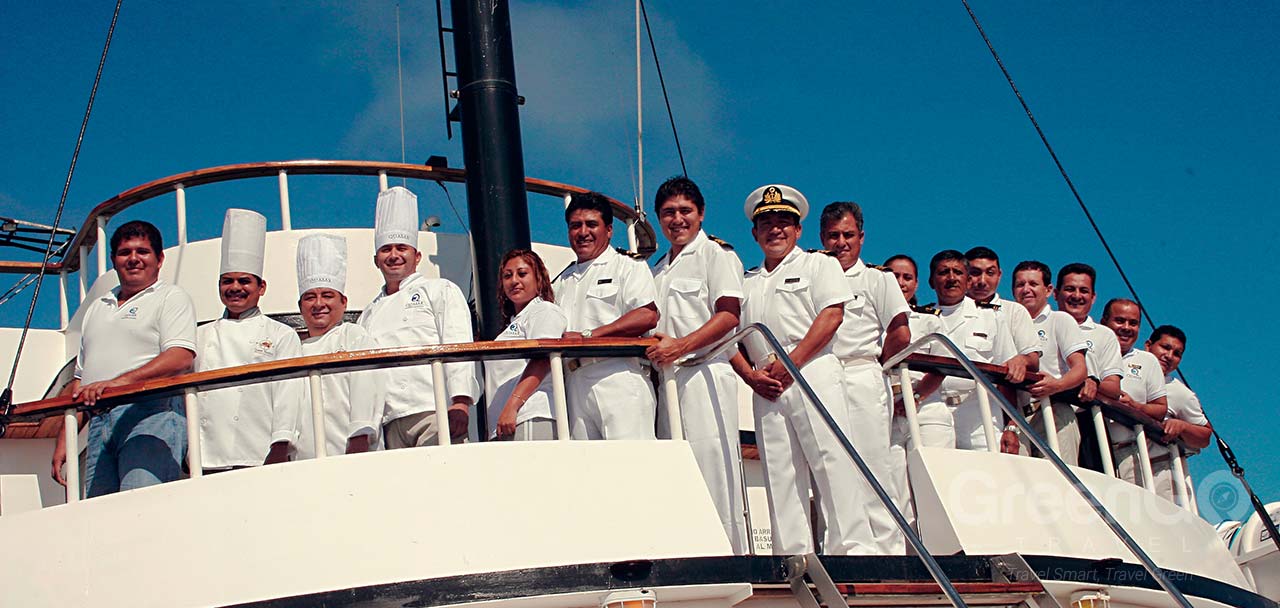 "Work on a cruise ship" search often goes together with cruise recruitment agents. Major lines have their own cruise recruitment agents. They are established in particular regions of the world. Thus cruise line companies would send your inquiry to one of their agents.If you want to find employment and be working on cruise ships, better contact overseas recruitment agencies if you have decided which cruise line you wish to work for.
The cruise recruitment agent chooses the most suitable applicants and presents the applicants to the interviewer from the cruise ship line. His task is to select from numerous applications only those who match the requirements of the employer. The cruise recruitment agent checks your experience, references and criminal record and arranges the medical examinations so that the cruise line representative meets prepared people at the interview.
Most cruise recruitment agents provide training for newly hired crew – they start from basic courses which have to prepare the new employees to the new circumstances ending with courses that cruise lines already require (STCW- International Convention on Standards of Training, Certification and Watchkeeping for Seafarers). Each of the courses lasts a couple of days.
How to work on a cruise ship?
You will be successful and in your work on cruise ships if you're motivated, energetic, friendly and professional.
Cruise companies issue for employees with positive attitude and commitment to customer service excellence. Contracts vary between three and nine months and in most cases you may extend the contract.
You can apply employment with a major cruise line no matter where you come from and what your nationality is. All the major cruise lines hire employees from all over the world and they do it every single day.
Very often your previous job will give you the needed experience to perform various cruise ship jobs – especially if you have worked with customers.
Once being hired on-board, you will have full health coverage after passing some medical examinations designated by the particular cruise line physicians. We recommend that you buy a travel medical insurance before joining a ship.
The cruise lines are also responsible for the return air transportation between the nearest international airport and your country. If you are not a U.S. citizen, you will be responsible to declare incomes earned while working on a cruise ship.
Food, accommodation are free for staff on-board the cruise ship – this is the main reason that the cruise ship career is so financially attractive. You will almost have no expenses while on-board a cruise ship. Every-day arrangements are slightly different of course, but generally you will share a cabin with another one of the employees.
If you are a crew member who works in passengers areas, you will be expected to follow the dress code – there are uniforms required.
Crew members will also have the chance to see the ports the ship is visiting when they do not have duties. Leisure time is different for the different positions- some of them take six to eight hours a day and it's a hard work! But do not worry – recreation areas onboard are really fantastic! You will be able to use a fitness center for the crew, recreation room and a deck with a swimming pool and jacuzzi. Modern cruise ships take care of the well being of the crew members, because it affects the quality of their work.
Crew members may also enjoy duty free prices onboard and get a discount on goods purchased in the onboard boutique shops.
The standard length of a contract for working on a cruise ship is minimum four to six months. The contract could be renewed by mutual agreement between the employee and the cruise line.
Cruise lines offer destinations all over the world, but the biggest markets for cruise industry are the Caribbean, Alaska and Europe and after one or two contracts employees may choose ships and destinations.
Work on cruise ships is not suitable for everyone because of the great amount of discipline and hard work required. You should be ready to work in team and enjoy working with people, to be able to live and share limited space with other crew members, work away from home for a long period of time. And, above all, you will have to be service orientated. The most important thing onboard is the quality of service – passengers are always right!